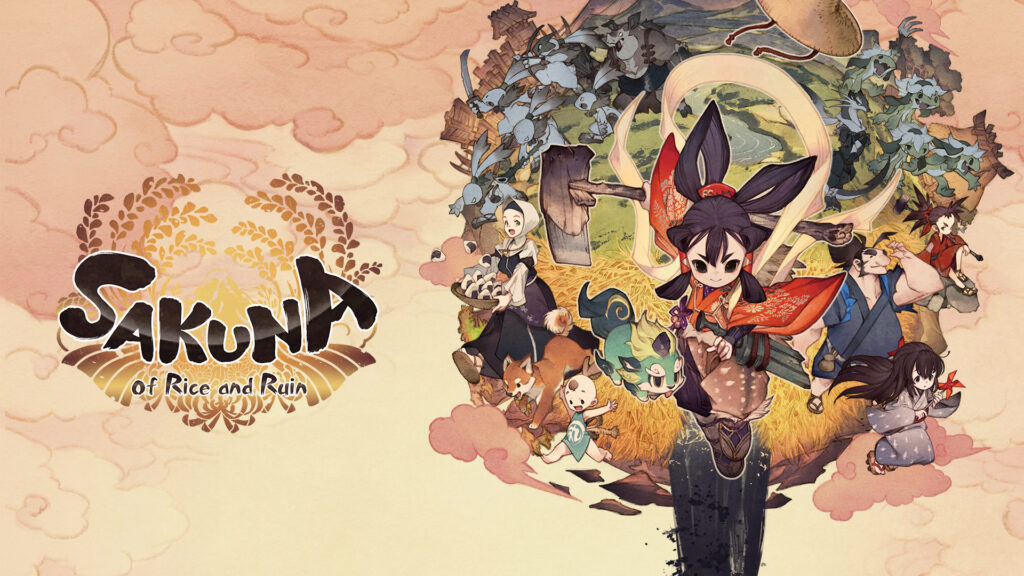 My SO purchased this Nintendo Switch game for me as a Christmas gift. This game is part farming simulator and part dungeon questing which is for me the best of both worlds.
The story begins as a group of humans crash a Divine feast and Princess Sakuna, the spoiled harvest goddess, isn't able to remove them from the heavenly Loft Realm without accidentally setting fire to the offerings of the head goddess Lady Kamuhitsuki. Sakuna, her familiar Tama and the humans are then banished to the Isle of Demons where she takes upon a quest to banish the demonic beasts before she can send the humans back to their own world. With rice farming she will gain possession of her powers again to fulfill her quest.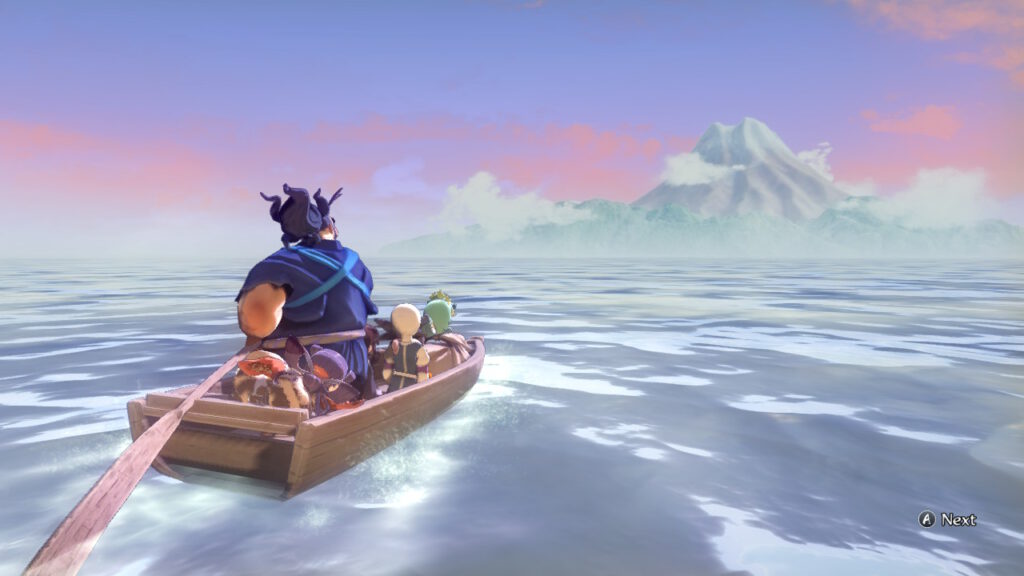 There is quite a lot of humor in this game. Princess Sakuna is truly a spoiled goddess who didn't really care of the peril the humans were in at the start of the game. By receiving this quest from Lady Kamuhitsuki she might learn a bit of humility and respect for the humans that spent much effort and care into producing the offerings for the gods. The developers gave the bratty princess a lot of different expressions to show her dismay with the quest and the fact that she is now caretaker of a bunch of humans.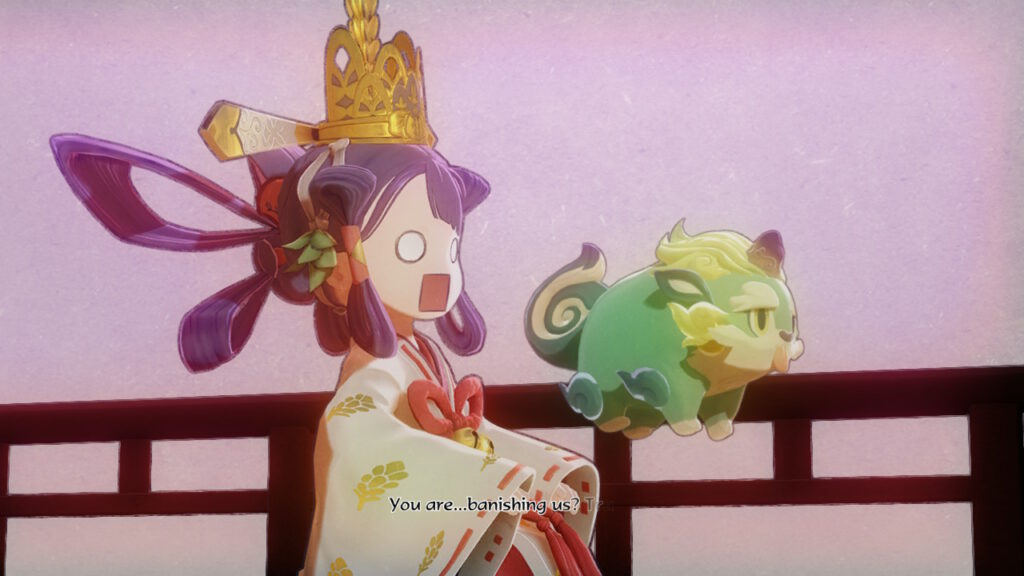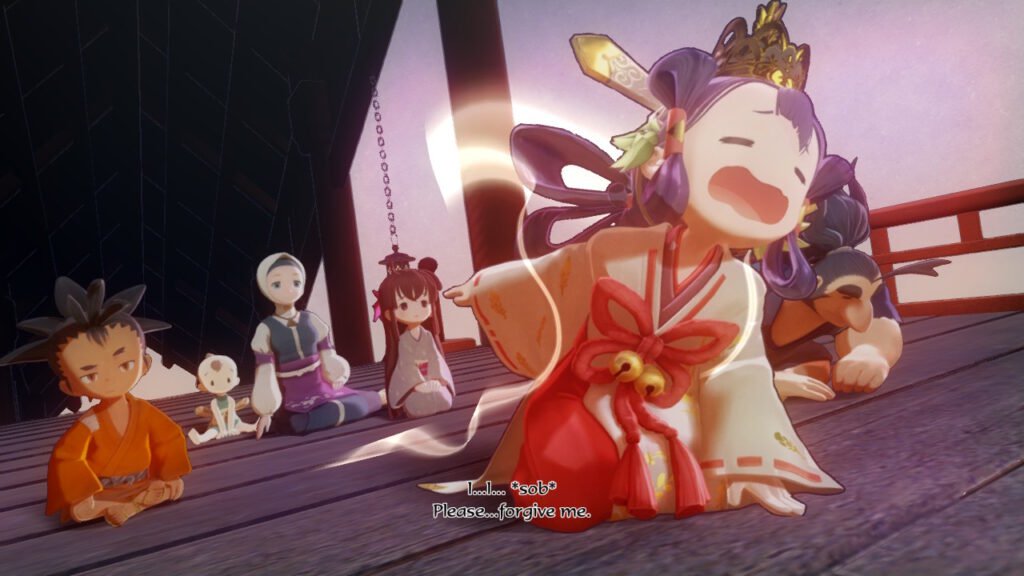 The game has two different play modes. When you are exploring the dungeons you are in side scrolling mode and use your magical sash & hoe to battle the demonic beasts trying to make battle combo's so your enemies are defeated faster. As of yet I've only ran into demon bunnies, boars and sparrows but I bet there are more diverse enemies further in the game.
When working on your rice paddy the game switches to first person mode and you can work around freely in a 3D environment. Which is a nice change of pace. My rice is only on day 4 now and I have no idea how it develops. What I did do wrong is to plant them too far apart. But I guess this is a learning process. 😉 You can let the NPC's do this for you but if you grow the rice yourself, you will get better results.
The only down point for me is the way the controls are set up, it's not comfortable for me to play it for long periods of time. Animal Crossing I can play hours on end in handheld mode but this game just hurts my right hand. Mind you, I have RSI (Repetitive Strain Injury) in that hand so it might just be me with the controls. Fortunately, the game is compatible with a Pro-controller which I own. This might make it easier for me to play.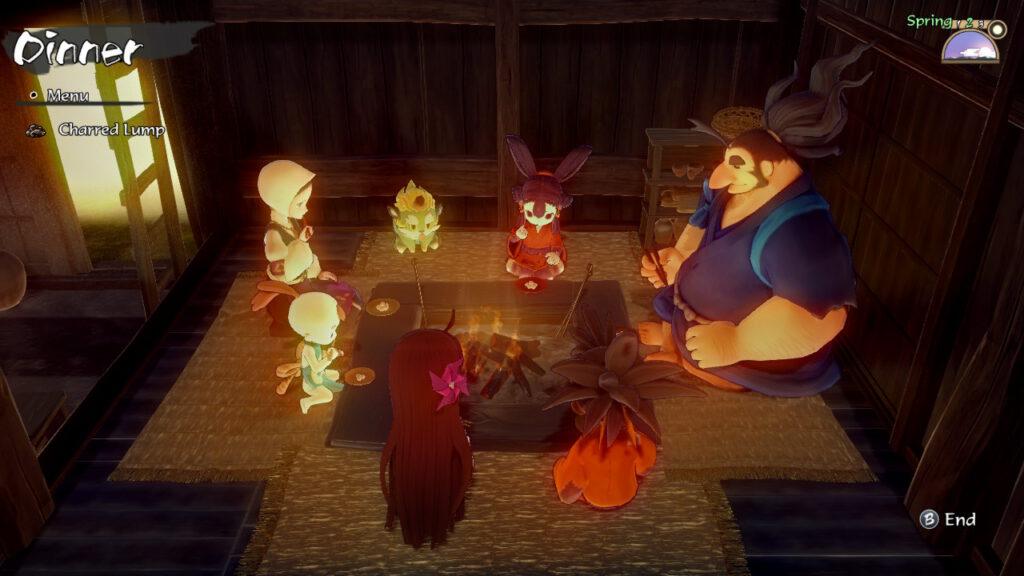 I really love the art-style and theme of this game. It's not going to be an one-on-one rice growing sim but they do calculate in temperature, fertilizations and overall care of the field to make the experience as close as it is in real life.
The characters are based on Japanese folklore but not being used by their true names and functions. Inari Okami is the god or goddess of rice and fertility while Ta-no-Kami is a kami who is believed to observe the harvest of rice plants or to bring a good harvest. So the developers took the premise of divinity and folklore and spun it in their own vision. Tama reminds of the Komainu, lion-dogs statues you find at Shinto shrines.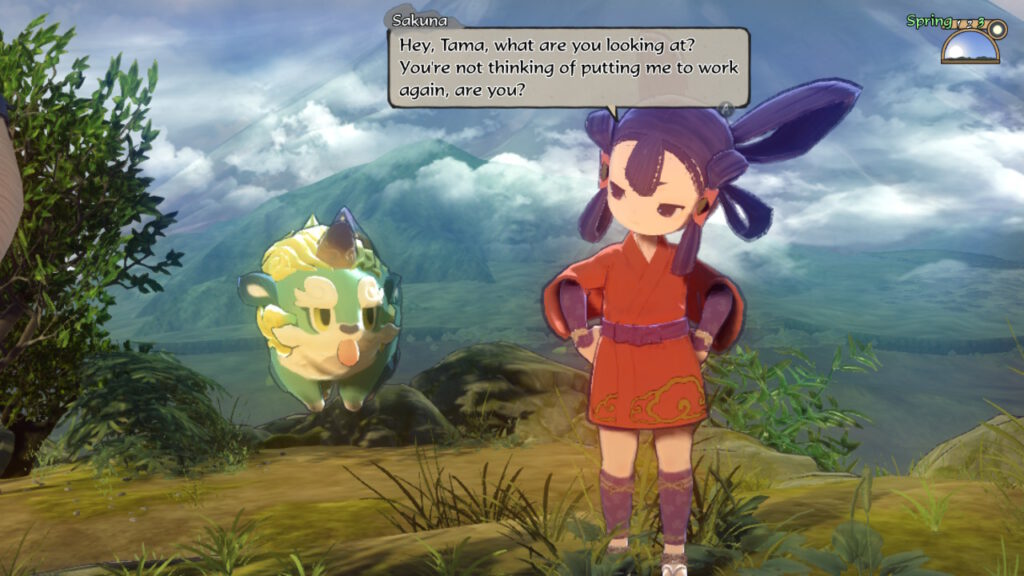 I am quite pleased with this game and it gives me a break from playing Animal Crossing with a more story driven game.