Since last October I've been ill, which resulted in my stomach being more sensitive than normal and it never restored to it's old self again. I felt sharp pains in my stomach and it bubbled and popped like old chemical factory, leaving me very bloated. At first I thought it was because I drank a lot of carbonated drinks but when I cut back on those, I never felt the difference. When I ate a cottage cheese cake my symptoms became worse and had a massive bout of the D. Others whom had eaten the same cake didn't have any issues so it wasn't food poisoning.
I have a few relatives who are lactose intolerant so I decided to cut back on any dairy products and my stomach settled down again. But if you look at any product made, a lot of them contain traces of dairy. Soups, sauces, cookies, cakes, drinks, cheese etc. So I have been looking for alternatives to replace dairy. I'm not a fan of soy milk, I drank some in Japan which is completely different than the brand you find here. I just can't consume it without using a ton of sugar, which is also bad. Besides soy production isn't always traceable to reputable farms, same as with palm oil.
Luckily our vegan friends have made it so that more plant-bases products came on the market, which made the choice for me a bit broader. I turned to oats and coconut based products. Oatly shows their carbon print and it looks promising, Alpro and Albert Heijn has expanded their product range massively on plant-based yogurts which fixes my cereal problem. I drink a lot of chai lattes and the barista range of Oatly & Alpro froth just as much as whole milk and leave me without the bloated feeling.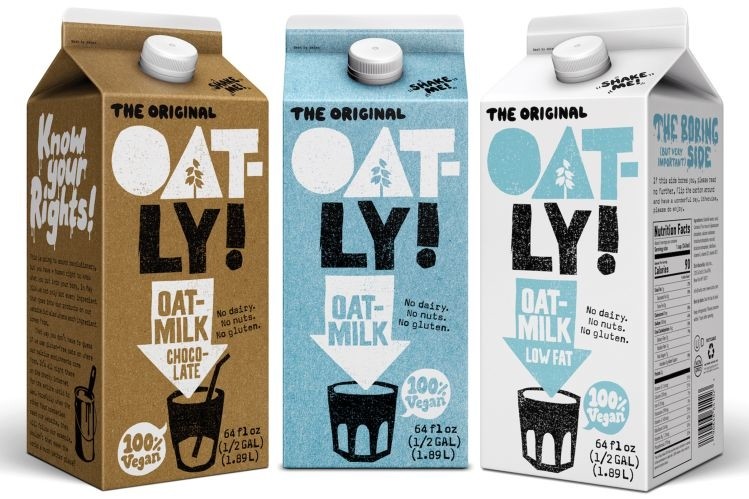 It's been a week since I switched to mostly dairy free products and I feel much better already. I might have even found a vegan mozzarella that I like. Making my own sauces and soups is a pain but better for my diet anyway. The rest of the family also benefits of the freshly made stuff.
I am really happy to see more plant-based products popping up. Alpro has a great ice cream range, Ola already made a vegan Magnum (please make a vegan Solero) and Ben & Jerry's joined the club. I'm just a little bit envious of people living in the Japan, they have plant-based patisserie. The lactose free cakes just don't cut it here. That's the only thing I will need to miss for now, New York Cheesecake and Bossche bollen. But there is some vegan cheesecake recipes out there, just need to make my own.
All and all I'm a much happier person now with my stomach in balance.