It's a shame I didn't see this movie when it was out in the theaters. I can't remember why as I am a big fan of Agatha Christie's Poirot and the murder mystery genre. I'll just throw it with being busy with video games ;).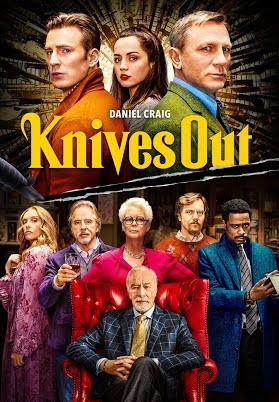 This movie has quite a few big names like Christopher Plummer, Jamie Lee Curtis, Daniel Craig, Chris Evans, Frank Oz and Don Johnson. Written, produced and directed by Rian Johnson known from Looper and Star Wars: the Last Jedi.
Mystery novelist Harlan Thrombey invites his family to his 85st birthday. The next day the housekeeper finds him dead with his throat slit. The police believes it's suicide but a private detective is hired by an anonymous party as there is a suspicion for murder.
It's the old Who dun it premise that made Poirot so much fun to watch as most of the people involved all had a pretty good motive to commit the murder. What I find awesome is that the detective in Knives out is called Benoit Blanc a reference to Hercule Poirot a fictional character created by Agatha Christie.
Almost all the people present on the day of his birthday had something to gain with the demise of Harlan Thrombey except his nurse and the family are in for a shock when the content of his will is revealed.
The movie was awesome and it's such a shame I didn't see it on the big screen. I'm hoping the remake of Murder on the Orient Express is just as good.