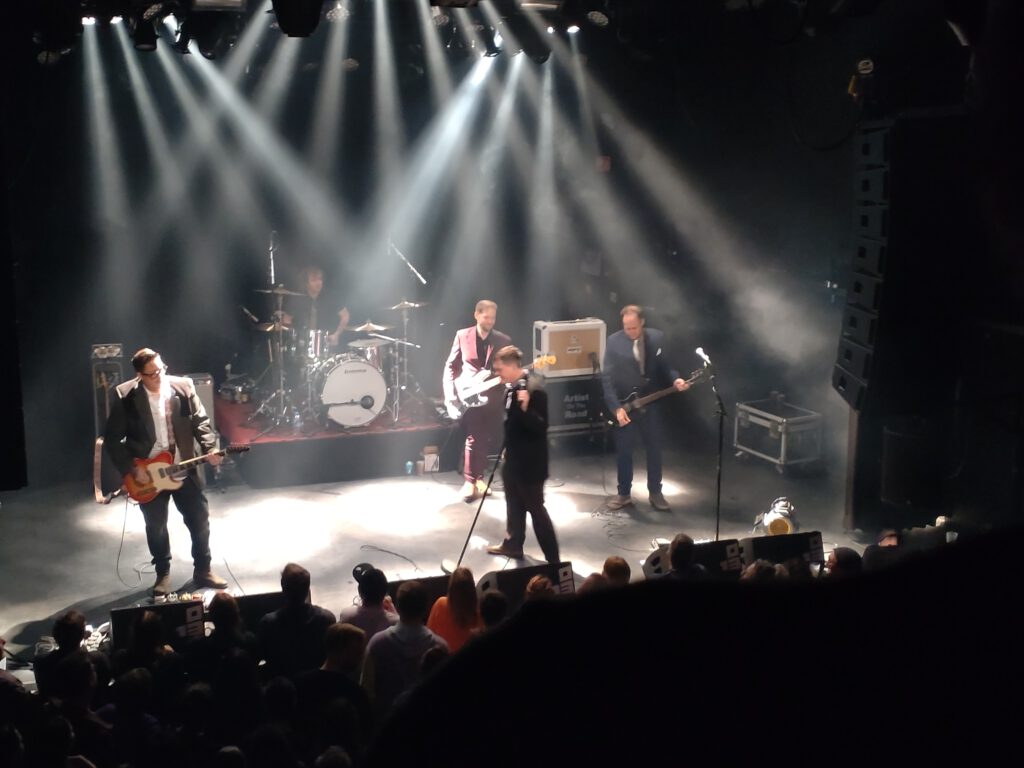 I've been into this band since their release of 'Danger High Voltage' in 2002. The wacky videoclip together with sexy lyrics just catched my attention. They are can be categorised into glam metal, funk rock, disco, basically blurring the genres.
When I lived in Belfast, I chanced upon a concert of theirs. Mind you I wasn't really a concertgoer when I was younger, me and crowds don't mix well. The Limelight is a small venue and Northern Irish are good craic, perfect combo. And I saw them there 3 years in a row until I moved back home. Going to an Electric Six concert is like meeting up with friends.
Back home I continued my Electric Six yearly gig now together with my hubby.
This year's concert was a postponed from 2021 due to Covid so I was really looking forward to seeing them live again. They have been going strong for 21 years and have their 19th album coming out next year.
This tour was the Electric Five as Tait Nucleus?, they synthesizer player, was absent because he and his wife became parents. CONGRATULATIONS! My significant other was sad because his part in the song: "Down at McDonnelzzz" is the best and though they weren't going to play it but they still did it as it is one of the most popular songs of the band.
We chose to stand on the balcony as it was less crowded and we still had a good view from there. And a mosh pit is not my thing haha. 013 got rid of glassware and introduced these plastic resuable cups for which you pay €0,50 deposit. You either get it back at the end of the concert or donate to the UN World Food Programme, which means a child will get one free school meal per donation.
The cloakroom is no longer there, they have changed to a locker system that you pay €2,50 for use, but these are teeny tiny lockers. I had a hard time getting my wintercoat in and a good thing I didn't bring my handbag. It really doesn't fit. But it was easy to use and you could open/close your locker with your phone.
The support act was Industrial and this was not my cup of tea. Maybe it was the sound but there was low annoying hum throughout all the songs, which was very distracting.
They always play Gay Bar which ended up becoming a mosh pit near the stage, but they surprised me with a few more songs from they debut album: Fire like "She is White", "Naked Pictures (of Your Mother)", "Nuclear War (on the Dance Floor)", "Dance Commander" and "Synthesizer". So it was back to the basics for me.
My favourite Electric Six song is "Hello! I see you!" from the album Heartbeats and Brainwaves, but I've never heard it live :(. Hopefully in the future it will pass haha. But I want to share it with you. The lyrics are just *chef's kiss* perfect.


It's the end of times and of the conversation
And everybody clinging to their soul salvation
I find all their pleas for mercy so annoying
Hello, destructor I'm yours for the destroying
Time just flew by and it was over after 23 songs *sad face*. The 013 is a very nice venue, my first time being there. And it's really close by home, just 20 mins away by train. This means we can go back home without rushing towards the station. If I need to travel an hour or more, I am booking an hotel. I've once tried to travel home from Amsterdam in a packed train. Not fun at all.
I hope to see them back in the Netherlands for 2023, going to be good craic once more. I'll deal with my Electric Six withdrawal with their upcoming album.

Next gig for me will be Röyksopp in Febuary 2023.