You either love mushrooms or hate them with a passion. I am in the lover camp.

A lot of prepackaged soups contains milk and let this be a substance that makes me violently ill kinda like Mr Creosote in the Meaning of Life.
With vegan food becoming more popular, it is becoming easier to find ready made meals that I can enjoy with out getting sick, but nothing beatss making your own soup.
I just needed to find a good substitute for milk, to create the creaminess needed for this soup.
Ingredients:
– water (1,5 ltr)
– vegetable stock cubes (2,5 cubes)
– chestnut mushrooms (450 grams)
– mushrooms (200 grams)
– onion (1)
– garlic cloves (4)
– plantbased cooking cream (250 ml)
– thyme (to taste)
– pepper & salt (to taste)
– cornflour (3 tsp)
First you start with your prepwork, chopping up the onions, garlic and mushrooms. Release your inner Michael Myers, you don't need to wait until Halloween. If your mushrooms have a bit of dirt on them, you have these handy brushes to clean them. Sometimes I hear that people wash them but I never do this, the brush cleans them up very nicely.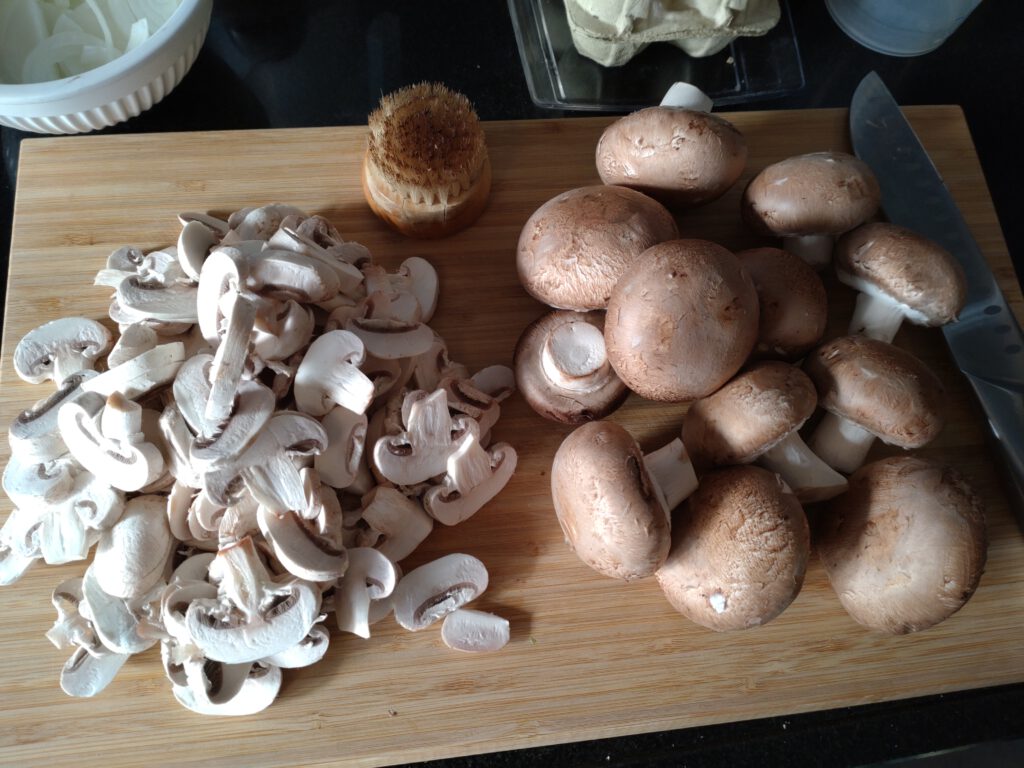 I find chopping mushrooms very comforting and I snack on the raw mushrooms during my prepwork. And it doesn't space you out, no magic carpet ride this time.
In the famous words of PSY: I'm gonna make you sweat! First you sauté the onions and garlic with a little bit of extra virgin olive oil until the onions become soft. My cast iron casserole pan is ideal for the job. Because this is not a long cooking time, you can use extra virgin oil for a deeper flavour.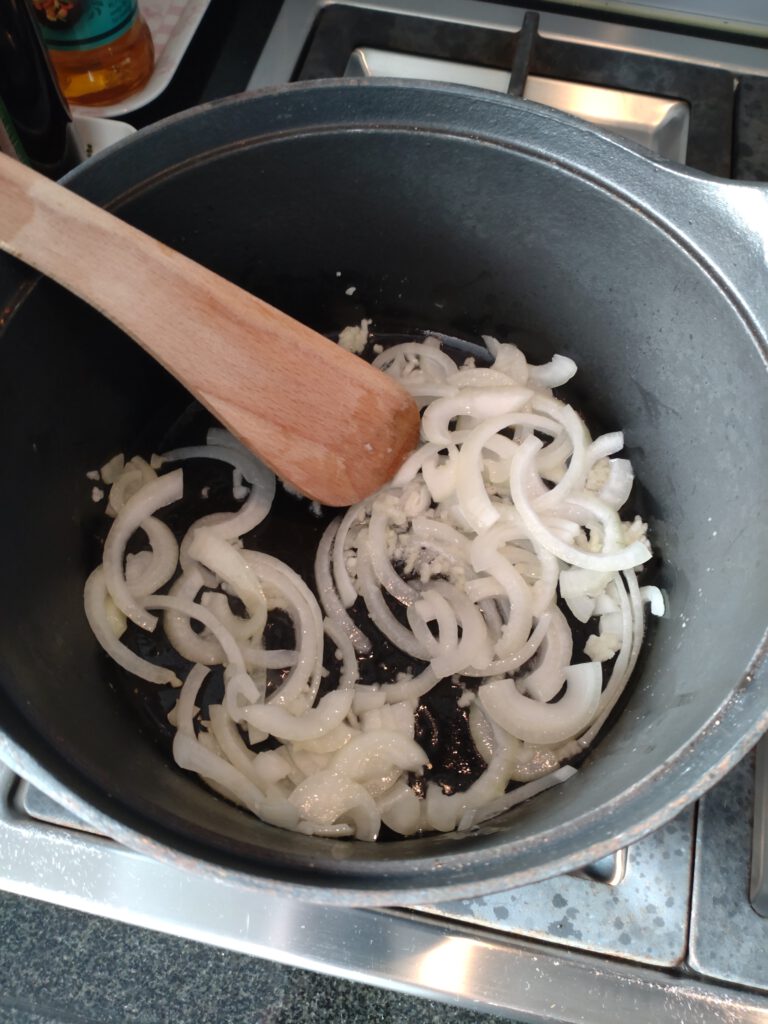 Next steps is adding your sliced mushrooms, and it's a full pot. 😀
If you keep your heat low, you won't stir your mushrooms to mush.
Well I like to stir it gently, we will blitz the soup later on so if you want to smash it go ahead. 😉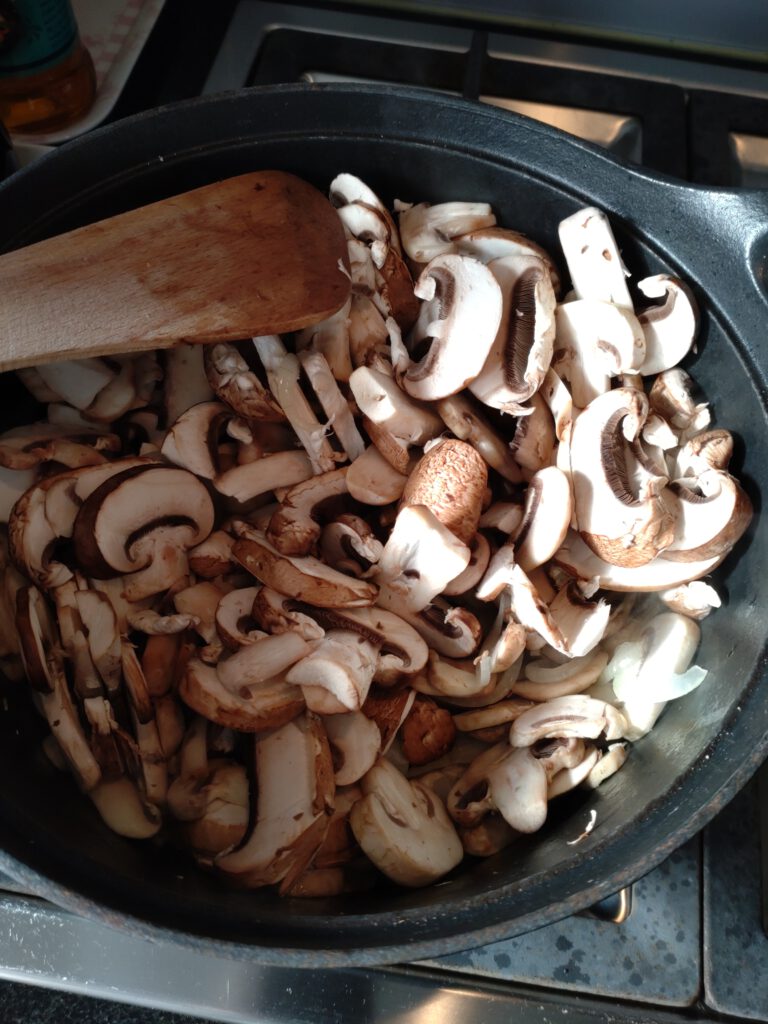 After the mushrooms have reduced by half add the water and the vegetable stock cubes and let the liquid boil for a short period.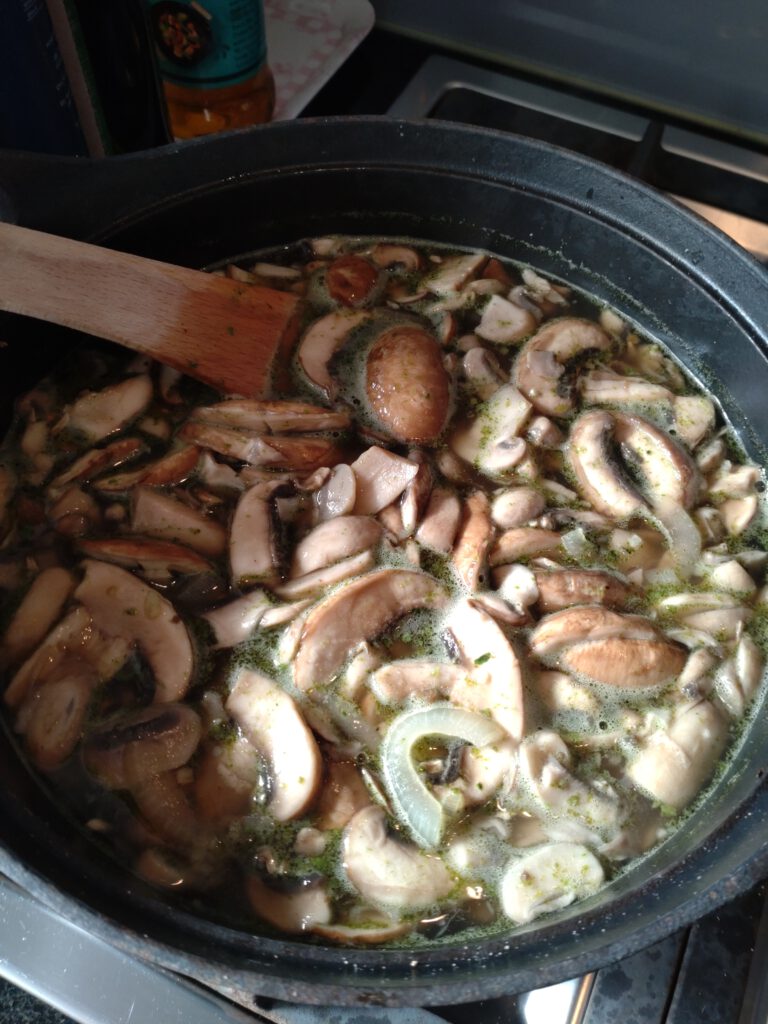 And now the violence comes in, during this step you will take your immersion blender and destroy these nasty mushroomsies. Completely obliterate these little feckers. Show no mercy. You could put it in jug blender but that's a real pain in the backside pouring it in, you can spill that lovely soup.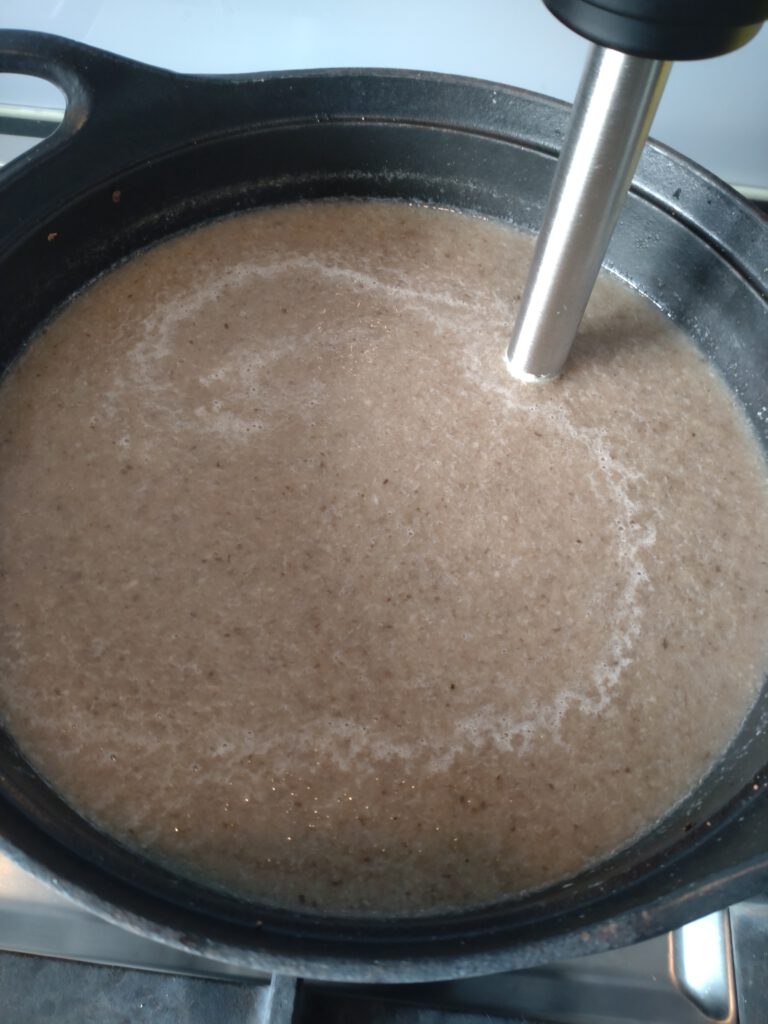 Now it's time to throw in some of that divine plantbased cooking cream, thyme and corn flour. Don't be an idiot like me and throw in the corn flour by itself because you will get disgusting lumps in your soup. Just add a little water with the flour and give it a little mix so you get this white liquid and then add it to your soup. This will help the soup thicken up a bit.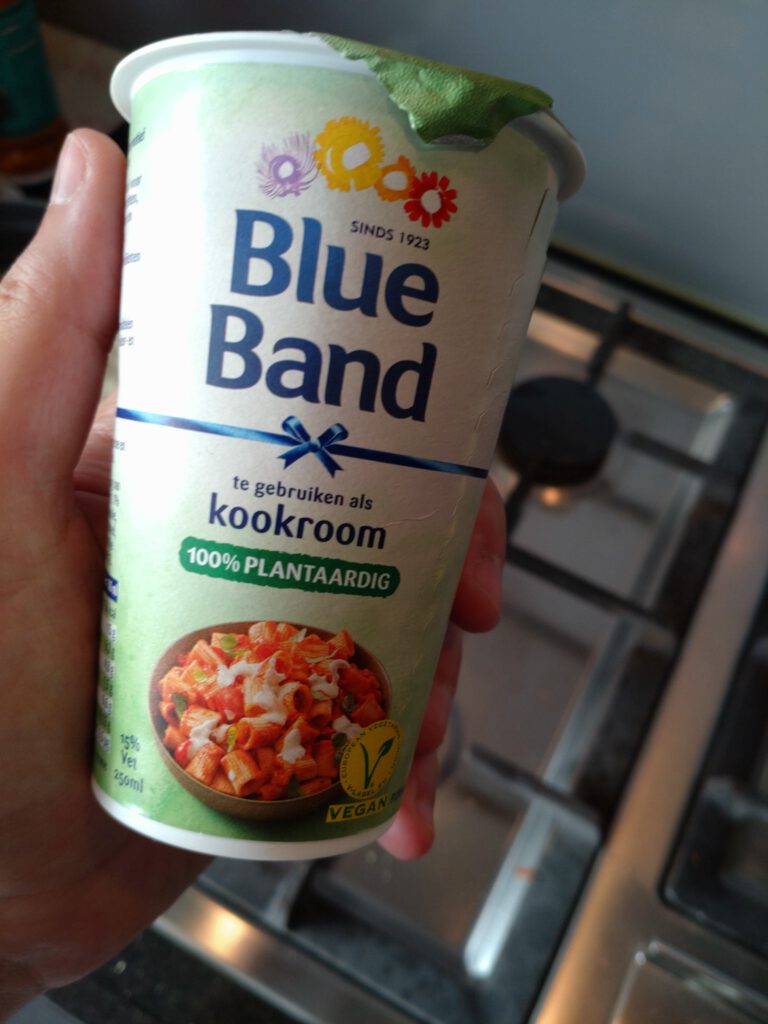 Stir well and let the soup simmer for 15 minutes. Add some salt & pepper to taste and bon appétit. For the meat lovers among us, you can add bits of crispy bacon but I sauteed some mushroom as a soup topping.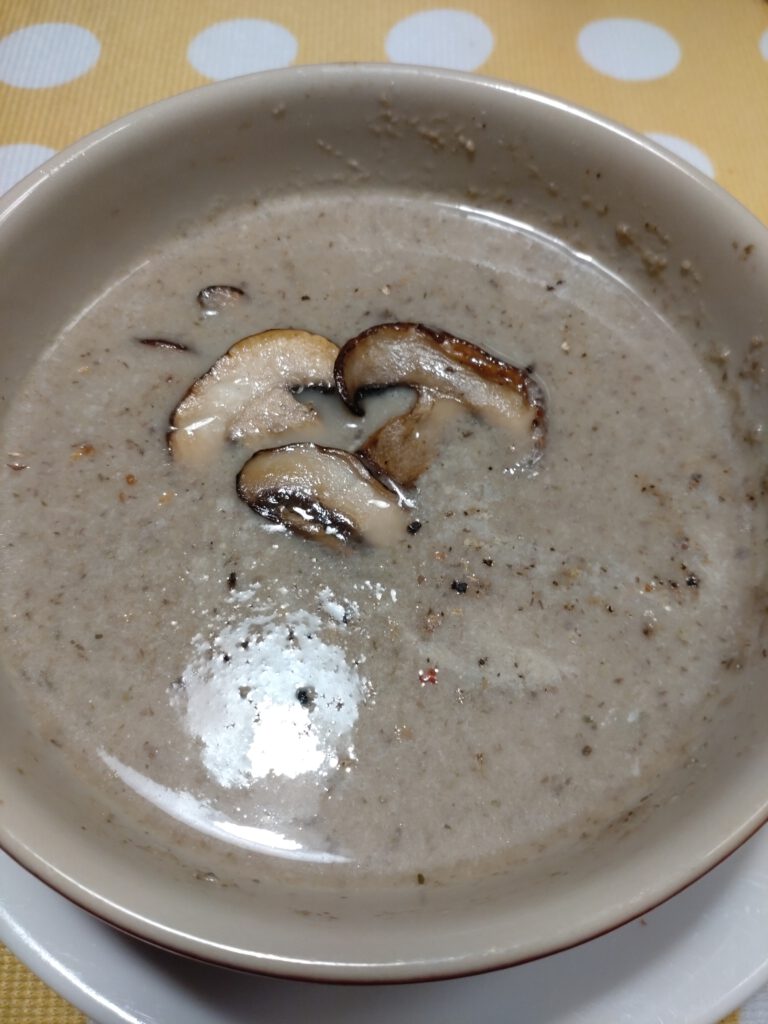 I am going to think about how to bring this soup to the next level. Maybe a bit of white w(h)ine or bay leaves. Any ideas, I'd love to hear.