One of my lifetime dreams was going to Japan and it finally became a reality in 2006 when I spent two weeks in a ryokan (family hotel or inn) in Tokyo. And there I tasted the best Japanese fast food ever, ramen.
I call it fast food, because it is not very expensive and served fast. While some toppings can be fried, in my opinion is healthier than a meal at McDonald's or Burger King. With that said, I am not a dietician and I know noodles have a high calorie value but anyway.
There are two main ingredients for ramen: noodles and broth. A good broth complemented with the right toppings makes a heavenly dish. So I was devastated upon returning home that I couldn't get my need for feed anymore. So sad.
I did have my Indonesian equivalent in Soto Ayam (Indonesian chicken soup) which is also delish, but I kept longing for a good bowl of Ramen.
In 2013 I moved to Belfast for work and close to my office in the city center there was Wagamama, a place I could indulge myself with ramen again. Wagamama ramen was my favorite at that place but I still missed the broth I tasted in Japan. So my search for great European ramen places started.
When I moved back to the Netherlands in 2016 the ramen popularity had hit my country. Of course Amsterdam was a forerunner when it comes to foreign food but I don't often go there.
Sadly my home town's idea to foreign food is morphed Chinese to suit the Dutch taste. I loathe it.
Slowly and surely small ramen shops are popping up here and there, even not that far away from me in Eindhoven. Broth made with care and recipes handed down in the family. I even drove my boyfriend nuts with the stories of the yummiest of dishes I had in my life.
In my quest on finding great ramen close by I've had the joy to find some true gems in the Netherlands.
Hinoki Noodle Soup, Rotterdam. They change their menu to the seasons and I had the Black Special Tonkotsu. The smell and taste of garlic overloaded the senses and it was a really kicker broth. I kept tasting it later on the day whenever I burped. My advise when eating ramen, get a light drink like green tea or iced tea without sugar so the flavour of the broth stays with you longer.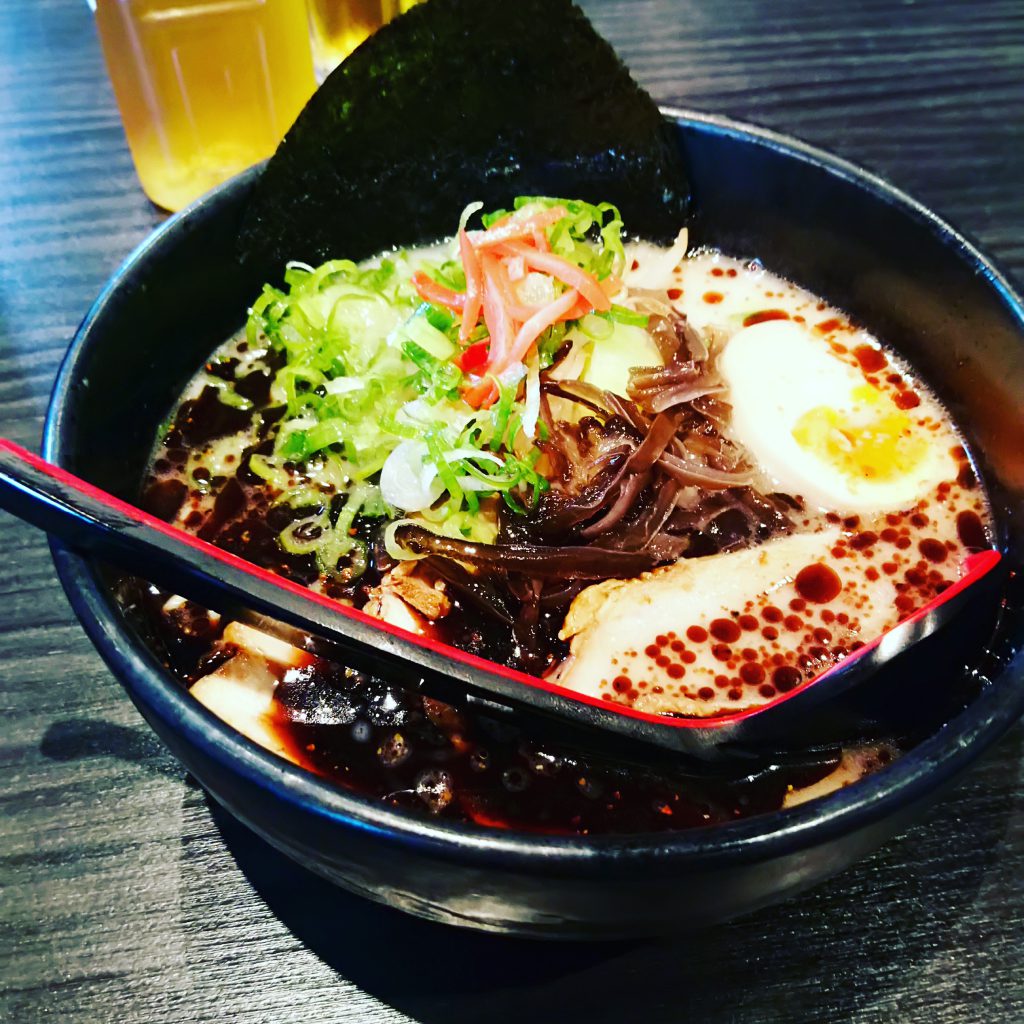 When me and my boyfriend visited the Cool Japan expo in Amsterdam it was only fitting to eat ramen for lunch. When in Amsterdam I am always worried when trying to find little gems like Fou Fow Ramen that it will be packed. Lucky for us this shop was not smack in the city centre so it was moderately busy.
We had the classic Tonkotsu which has a rich pork flavour and some Karage (fried chicken) with wasabi-mayo and I think my boyfriend also fell in love with ramen at that point. I did take him to Wagamama before but he enjoyed this broth a lot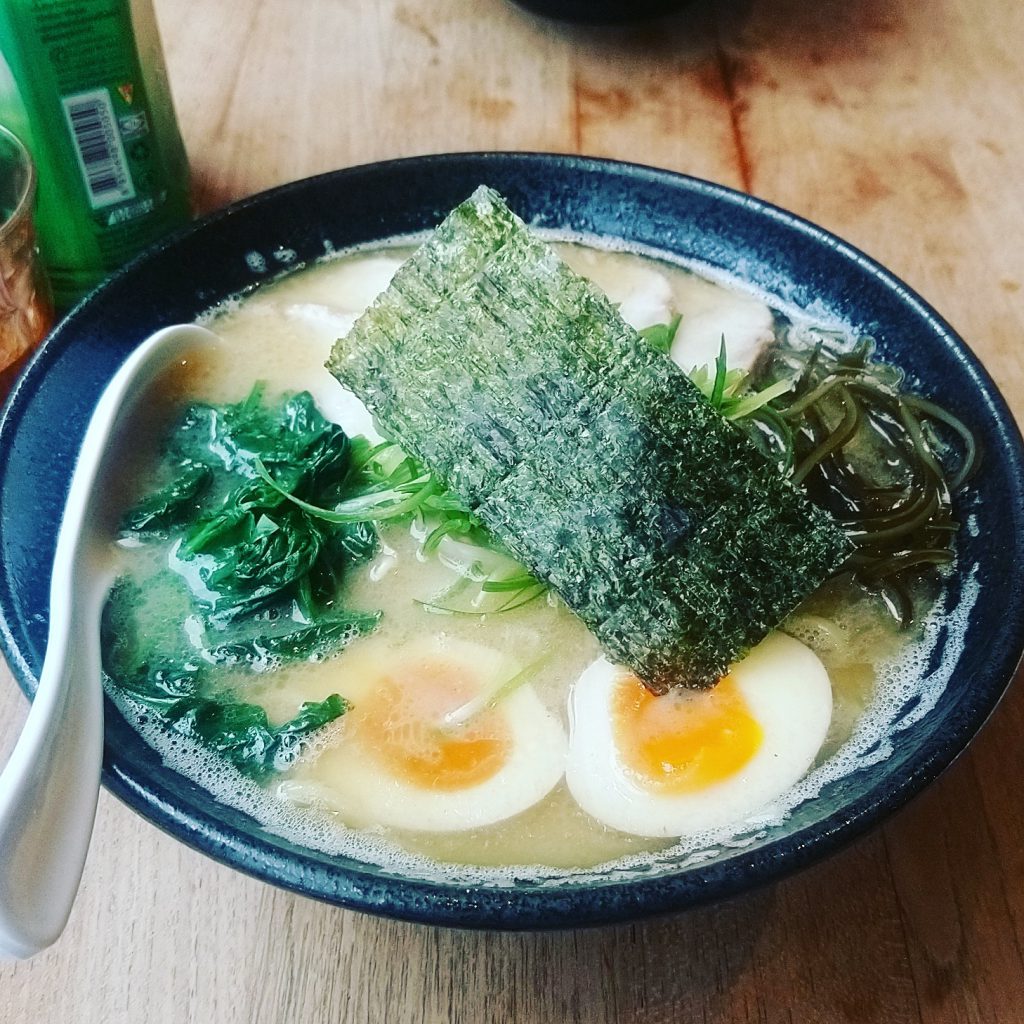 My last trip to delicious heaven was last week in Eindhoven. I had passed Xu Noodle Bar a couple of times but hadn't walked in yet. I've been studying to get my degree as Financial Assistant and had my final exams that day. After passing with a whopping 9.0 I treated myself to some victory ramen. Again I went for the classic Tonkotsu and the broth was soft and sweet. The pork was really tender and melted like butter in your mouth. In the Netherlands we have the saying: "It was like an angel pissing on your tongue". Them Dutch and their weird sayings. I was one happy bunny after this fantastic lunch. And I need hthat "Send Noods" hoodie.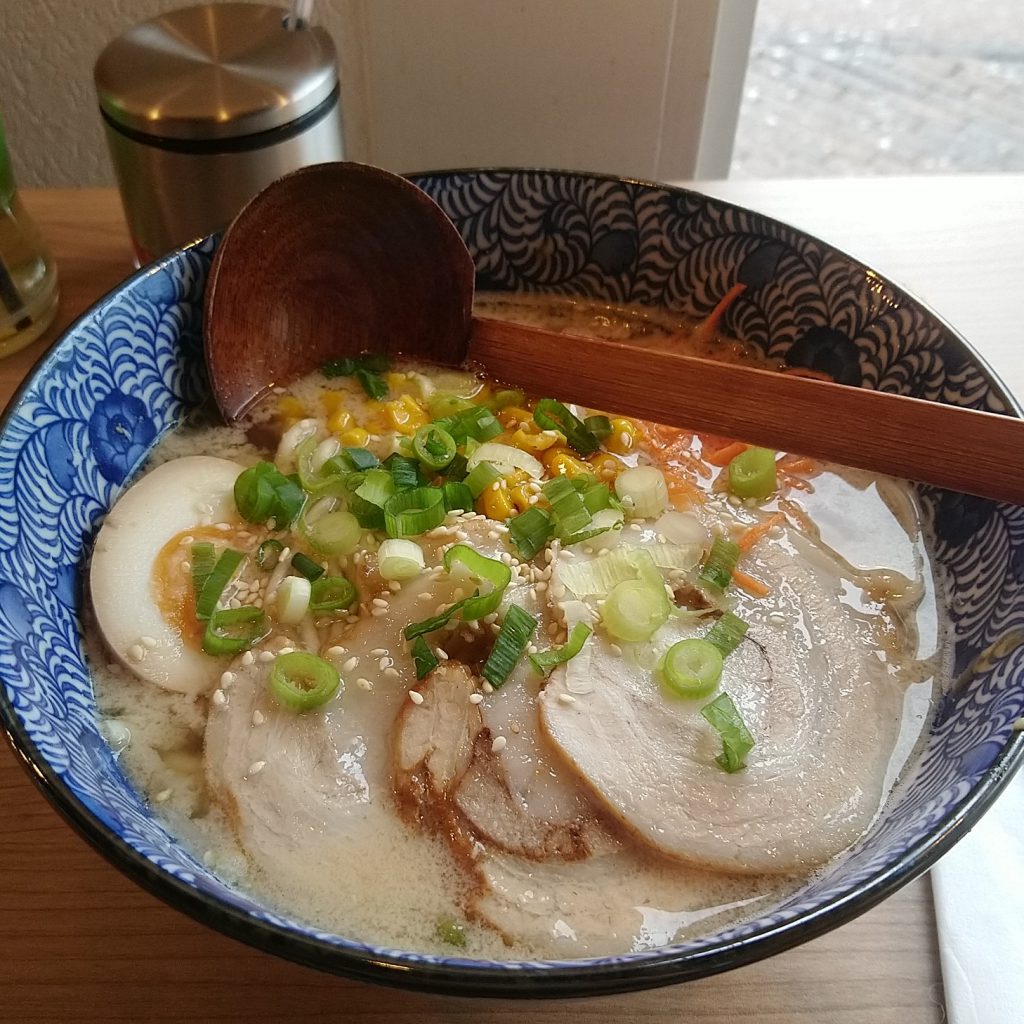 Great news for my vegan friends. All the above shops I've visited have vegan options for ramen so everyone can enjoy.